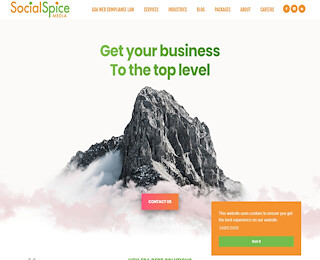 The fight for accessibility has made its way to the Internet. Today, having ADA compliant web design is more than a luxury; it's a necessity! Business owners all over the United States are now being sued for not making their websites ADA compliant. These are ADA violations you've probably never even heard of until recently, but you would do well to take heed!
Admittedly, many of these claims appear to be predatorial in nature, but still, judges are ruling in favor of plaintiffs more often than not. Business owners are having to spend thousands of dollars on attorneys fees, settlements, and making their sites ADA compliant. Avoid the worst-case scenario, and let Social Spice Media provide you with a professional-looking ADA compliant web design.
Do Websites Have to Be Compliant with the ADA?
If you thought that the ADA is limited to ramps and parking spaces, think again! People who have been disabled either since birth or for some period will find ways to navigate the world through their functioning senses – the World Wide Web is no exception! Every day, thousands and thousands of disabled people are online. This includes the blind, the deaf, the physically disabled, and people with paralysis, and people with all kinds of disabilities.
Examples of ADA Compliant Web Design

Many lawsuits have come about in recent years revealing that most current websites are dark to the disabled. Blind people should be able to read your content with audio text, deaf people should be able to read transcriptions of your content, and so on.
To avoid being sued for having a website that is non-ADA-compliant, contact Social Spice Media. We can help you make your web design ADA-compliant quickly.
In technology, ADA compliance is essential, but we gear more towards the WCAG standards, which are the Web Content Accessibility Guidelines. It's a piece of ADA, but it's more geared towards websites. ADA involves everything from having ramps to allow people in wheelchairs to access your business, but that doesn't apply to your website. Your website needs things like contrast, text behind images so people can read it if they can't see the image.
How Do I Know if My Website is ADA Compliant?
There are tools available that you can use to determine if your website is ADA compliant. If you use a Chrome browser, there are tools that you can add on that allow you to scan single pages at a time, and there are tools that can allow you to see what your website would look like if you were color blind, had dyslexia, etc. These tools help you to better understand what your page would look like.
Most of these tools have free versions with premium upgrades. Still, if your website is not ADA compliant, then it will need a makeover. And without the skills and expertise that it requires, your best efforts might not yield an ADA compliant web design. That is why it is advisable to seek the services of a professional.