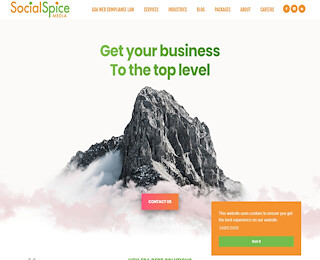 As the online community moves to create a World Wide Web that is better and more accessible to all, ADA website compliance is a must for all websites in the 21st Century! What exactly is ADA compliance? Well, in the physical world, we see it around us all the time. Wheelchair ramps, audio aids for the visually impaired, brail for the blind; these are just a few examples of ADA compliance. ADA (Americans with Disabilities Act) is a set of laws that mandates equal opportunity and accessibility in the public sphere for people with disabilities. Nowadays, website owners are being held accountable when they don't comply.
Obviously, you can't build a wheelchair ramp or an elevator on your website. So how do you make a website ADA compliant? The easiest way is to hire a company like Social Spice Media who specializes in making websites ADA compliant. Of course, you probably want a little more information than that, right? Well, you're in the right place! Consider some of the simple things that you can do to make sure your website is ADA compliant.
Know the Guidelines About ADA Website Compliance
Before you start making drastic changes to your website, start by familiarizing yourself with the Website Content Accessibility Guidelines (WCAG) 2.0. Whether you intend to make the changes to your website yourself or outsource the tasks to a professional like Social Spice Media, so you know the job gets done right, it can pay off immensely knowing what makes a website accessible. Not only will you give yourself the ability to do a better job should you do it yourself, but you'll also be able to hold your service provider accountable if you choose to outsource this work.
When you contact Social Spice Media, we'll be happy to conduct an audit of your website for you. We'll perform the audit manually and make a list of where your website is ADA compliant and where it is not. Based on our findings, we'll then make our recommendations to you, explaining all of your options in detail. If you decide to DIY, there are several tools online that have free and premium versions.
How to Make a Website ADA Compliant on Your Own
One of the most simple things you can do to make your website ADA compliant is to make sure all of your images have alt tags. If you are not a programmer, a CMS like WordPress makes adding alt tags easy. Just enter your photo gallery, click on the image you want to add alt text to and add and save your text. If your website was built using a markup language like HTML, you will definitely need to review your code and CSS. You'll want to do this regularly, maybe once a month, so you can clean up any outdated code quickly and make sure that your website uses only the best practices.
ADA website compliance is only an email away. Contact Social Spice Media today and request a free ADA audit.