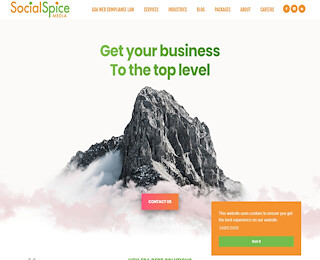 Email marketing may seem overwhelming to some, but it need not be. Social Spice Media offers email marketing in Ventura County, helping businesses, organizations, and entrepreneurs grow and profit from their email lists. Social Spice Media is an A to Z email marketing firm, providing comprehensive email services.

How to Do Email Marketing with No Email List
If you are a new Ventura County startup, and you haven't yet acquired an email list, you may be wondering, "Is there any way that I can do email marketing without a list?" The good news is that you can. The bad news is that it's going to either require a significant investment of time, money or both. Still, with an email marketing company like Social Spice Media on your side, we can make the complex seem easy and take care of your email marketing for you.
When building an email list from scratch, you have two options:
1. Build your list slowly over time or
2. Cut corners
Building your email list over time is definitely the best way to go about it. Typically, people acquire emails from sources who are interested in what they offer. Individuals may sign up for a newsletter or even make a purchase, submitting their email address in return. These emails are very valuable to your business because you already know that you have a list of highly relevant, highly qualified leads.
Further, it is worth stating that a small email list of say 500 really good leads can be better than a large list of 50k random emails that you might get from email list companies. Still, cutting corners might be mandatory if you don't have an email list and you want to start your email marketing campaign right away.
Cutting corners can work if it's done correctly. Still, you should not forsake the art of gathering emails organically because those are the ones that will pay out the most over time. And while the majority of email list companies are outright scams, there are some email list companies that actually provide a valuable service!
Social Spice Media partners with some of the best email list agencies in the world, which means that if you don't have an email list already, we can build you a quality one from the ground up.
We will accumulate high-quality email leads based on specific demographics, including:
Age
Household Income
Location
Gender
Civil Status
Purchase History
Email Responsiveness
and more!
Choose Social Spice Media or Email Marketing in Ventura County
Social Spice Media can help you take your business to the top with email marketing in Ventura County. In addition to growing your email list for you, we can also help you put together a highly effective email marketing campaign, customized and highly targetted to bring about the results you desire.
We'll use a combination of text, images, and videos, along with attractive promotions and incentives to open, respond to, and take favorable action regarding your email. Call us today for a free consultation and get your email marketing started.