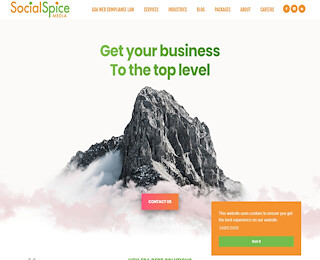 Are you clueless about how to make a website ADA compliant? If your business doesn't comply with section 508, you can face serious legal consequences. Contact Social Spice Media for help with ADA compliance.
How much does it cost to make a website ADA compliant?
The US government offers incentives to its businesses to make their websites ADA compliant. Companies also enjoy a tax credit for up to 50% on costs. The eligible costs for tax credits include the cost of modifying devices and equipment, auxiliary aids, etc. However, the tax credit is a one-time incentive and applies only for expenses to the extent of $10,250.
To make a medium-sized eCommerce website ADA compliant, it can cost business owners anywhere from $25,000 to $50,000. Factors like the size of the website, number of tabs and type and quantity of content determines the price you pay. Getting your website ADA compliant can save your business from the risk of facing an expensive lawsuit. Call us for details.
Tips to make your Website ADA Compliant
The Americans with Disabilities Act (ADA) states that your business website should be accessible for people with disabilities by complying to a set of accessibility standards. Here are some tips on how to make a website ADA compliant:
Find a skilled web design company - Entrust your website design and development to a company that has the expertise to build an ADA compliant website. Choose a firm that builds websites using Magento, WordPress, etc. Once you narrow down your choice, discuss with the firm as to what tools they use for making a site ADA compliant. Siteimprove and Criterion are the most commonly used accessibility tools.
Run a site audit - A site audit helps you to understand those areas in your website that do not satisfy the web accessibility standards. Based on the results, start with fixing the significant areas that lack in compliance and move down to smaller features.
Building an ADA compliant site - After the web company does the work for you, make sure to check if all the images in your site have relevant alternative text. It's vital to have it for straightforward interpretation by disabled users. Furthermore, ensure that all the site inputs have proper labels for easy readability by ADA devices.
ADA compliance is an on-going function and can benefit your business in several ways. Get in touch with us to avoid ADA litigation.
What is an ADA compliant website?
To build an ADA compliant website, you must make sure that the content, functions, and navigations in your site are accessible to those with disabilities. It is a legal requirement for businesses to build their website ADA compliant. ADA compliance means easy accessibility with all aspects of your website in terms of website presentability, appearance, content alternatives, user controls, and site usability.
With an ADA compliant website, you have access to reach a wider audience. Do not worry about how to make a website ADA compliant! Get in touch with Social Spice Media for ADA Compliant Web Design at affordable prices.