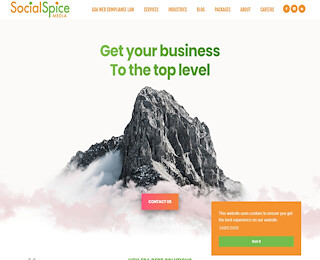 If you are an attorney or a law firm looking for an experienced and reputed lawyer marketing company, then you are in the right place now! Social Spice Media offers affordable premium marketing services for lawyers, obtaining measurable results for clients with every marketing campaign. Although there are several reasons why Social Spice Media provides the best lawyer marketing services, the main reason is probably that we understand lawyer issues and needs as it concerns marketing strategy.
We Understand Lawyer Marketing Needs
It is crucial that attorneys and law firms partner with a marketing agency that understands how to market for attorneys. Think about it; marketers can follow a pretty standard set of rules when providing marketing services for most other clients. For example, a tire shop and a bakery are about as different as two businesses could be. What they sell is different, how they look and feel is different, and their industries are vastly different. Still, the way we would approach marketing for these two businesses wouldn't be that different.
That's because, for most businesses, the goal is to let as many people know about their services/products as possible. Since everyone needs tires and just about everyone eats food from the bakery, it is not far-fetched to assume that getting these business's messages in front of as many eyes and ears as possible might be profitable for those companies. But what about an attorney or a law firm? Would they be best served by this same marketing approach?
The answer is, "it depends." It depends on which part of the law a lawyer practices. For example, a personal injury or divorce lawyer might benefit from traditional marketing mediums, such as TV, radio, and print. Why? Because there are a lot of people getting hurt every day (or at least saying they are), and there are a lot of people getting divorced, even right here in our neck of the woods. On the other hand, would traditional marketing be advantageous for a highly specialized niche of legal practice, such as Sports & Entertainment law? Probably not.
The Benefits of Digital Marketing for Lawyers
In most cases, digital marketing is best for attorneys. Why waste thousands and thousands of dollars in frivolous marketing campaigns for little or no results? Your marketing campaign is an investment, and you want to see a return on it. For most lawyers, marketing strategies are best when customized to their needs. Digital marketing allows us to go out and find your target audience, bypassing others who would likely have no interest in your services. There's no need to spend money to get your message in front of people who don't need what you offer.
We can use various social media platforms to establish an online presence for you. By answering frequently asked questions about your area of practice, you give something of value to your community, which can help you get your name out there. Also, SEO and PPC can help you get more phone calls.
Lawyer Marketing Company