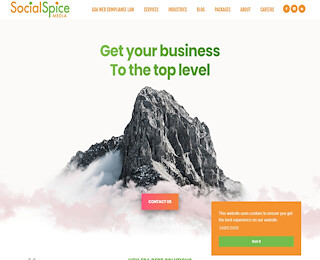 Social Spice Media is a social media company that provides world-class social media account and marketing services. We are a results-driven, highly experienced social media firm that you can count on for transparency, affordability, and most importantly, results! We ask that you let us put our knowledge and expertise to work for you. If you're going to hire a social media company, then hire a company that is reputed for getting results for its clients.
Should I Outsource My Social Media Accounts to a Social Media Company?
Social media management and marketing, in theory, can be done by anyone. There are two problems though:
1. Social media management and marketing is a full-time job in and of itself and
2. Optimal results are achieved by in-depth knowledge, professional content production, and the right strategies at the right time, which very few people are capable of.
There's no magic pull or button that can make a person have success on social media. The fact is; success on social media requires unremitting effort and time investment. Business owners, managers, and decision-makers simply don't have time – even if they have the expertise – to manage their social media accounts. Social Spice Media can give you your time back so that you can benefit from social media and still run your business. That's why people outsource their social media tasks to us.
How to Make Money from Social Media
More people are on social media than ever before, and more people are marketing on social media as well. Social media users are being bombarded from every direction with marketing every day. That means that if you want your content to stand out, it has to be unique. You have to take a different approach to social media than the mainstream marketing industry does. In line with the saying "You have to give a little to take a little," you need to add value to social media if you expect to get something from it. What does that look like?
Adding value means giving something of high-quality. This could mean giveaways, discounts, or can even take the form of answering questions that a lot of people are asking within your market. It can also be something as simple as commenting on other people's posts or answering questions within your community. By adding value, you will not only gain more followers, likes, shares, fans, customers, etc., but you will also be able to ask for something in return from the others whom you've helped.
Social Spice Media is a Social Media Company with Solutions
Whether you're starting from scratch with little-to-no social media presence or whether you have thousands of followers already and just need someone who knows what they're doing to take over; Social Spice Media can handle the task!
We can gain followers for (relevant and organic followers) and act on your behalf, publishing content and contributing to your social media communities. We manage Facebook, Instagram, YouTube, Pinterest, Reddit, LinkedIn, and other prominent social media accounts for our clients.