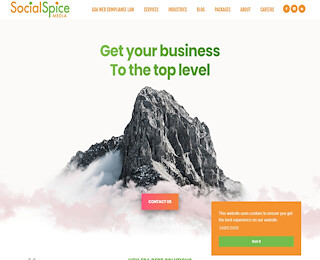 Social Spice Media is a lawyer marketing company that understands how best to use social media for attorneys. If you are an attorney or a law firm, we invite you to contact Social Spice Media for a no-cost consultation. We will learn about your practice and create a customized social media plan that helps you achieve your goals online. We've helped lots of other attorneys gain more clients, and we can help you too!
How Long Does it Take for Lawyers to See Results from Social Media?
Social Spice Media is honest and transparent, and that's why more lawyers trust us to manage their social media accounts for them. We will never mislead you about time frames, expectations, prices, etc. The fact is; social media marketing takes time. You can't expect to see overnight results, so we encourage you to come into your social media campaign with a long-term plan. However, with our formula for social media marketing; it's not unrealistic to expect to see results within just a few short months!
Is Paid Social Media Advertising Better than Organic?
There's organic social media marketing, and there's paid social media marketing. Paid social media marketing can get attorneys faster results since they are paying to get their advertisements in front of people who are likely to be interested in their services. Organic social media is more hands-on and involves a lot more of a time investment. But before we get into that, let's discuss the importance of content for attorneys on social media.
Attorneys Need High-Quality Content for Their Social Media Campaigns
You've probably watched videos of attorneys on YouTube giving tips about what not to do during a DUI stop or the pros and cons of structured settlements. If you watch enough of these videos, you will notice that there are some attorneys who have really poor content on social media. Even if the legal advice they are providing is sound, the content is still of poor quality because it is just a guy standing in front of a camera talking. The high-quality videos not only provide exceptional legal advice, but they also display excellent videography. The videos are full-blown video productions with professional camera operation and editing. These kinds of videos are made by lawyer marketing companies like Social Spice Media, and they perform best on social media.
Having Realistic Expectations About Social Media for Attorneys
Organic social media growth takes time. You have to constantly crank out high-quality content, engage with your community, acquire more followers, and add value to your marketplace. You have to give something to get something, and that is why so many lawyers use the Q&A model to provide valuable information on social media.
Since the process of establishing a presence on social media is so tedious and time-consuming yet necessary, many lawyers outsource the management of their social media accounts to Social Spice Media. Our marketing agency is results-oriented and highly experienced. Contact us today for a free consultation.