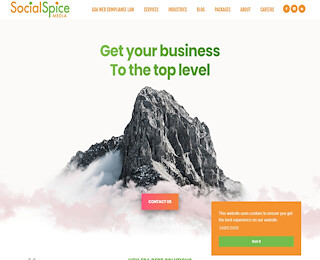 In today's day and age, the internet is everything. Information, entertainment, goods, services, and so much more live online, making it a place that billions visit on a daily basis. Our entire lives are online in some form or another, and the need for an excellent website is imperative if you own a business.
It is only bad business not to have a website featuring your products or services, accessible avenues for contacting you, and a bit of information about your business and team. Accessibility is how businesses thrive these days, and a great website allows for maximum convenience.
What is a reliable web design company in Ventura County?
Social Spice Media has been providing content, web development, graphic design, and client relations since 2014 when it was formed in the home office of Jonathan Boring. Boring, a top 40 under 40 award winner, has helped grow this business rapidly, even winning the Pacific Coast Business Times Award in both 2018 and 2019.
We provide custom designed content pages and source imaging, contact forms, mobile responsiveness, SSL certifications, and a litany of other services to make your digital presence stand out in the sea of digital waves.
Social Spice Media provides social media packages.
We know the importance and impact that social media has on today's culture. Social media allows us to connect in a way that has never before been possible, allowing, for instance, access to one another to share content, opinions, and even business with one another.
We can include customized social channels and regular postings on social networks like LinkedIn, Facebook, and Instagram while also producing custom digital content like landing pages, blogs, and video ads. We also cover marketing materials like brochures, one-sheets, folders, business cards, and banners.
Our mission and vision statement is clear.
We are an all-inclusive premier marketing agency to help our clients achieve a fully integrated digital marketing strategy. Growing your business through increased web traffic with social media marketing, website design and development, content creation services, email marketing, and video production is what we aim to do with each customer. We are here to help whether you are starting from scratch or looking to enhance your current digital marketing strategy.
Can Social Spice Media make my website ADA compliant?
Since January of 2018, contractors, federal agencies, and employers that receive federal funding are required to make their websites ADA accessible. The most at-risk industries for ADA lawsuits include attorneys, ecommerce, psychiatrists, and retail.
Accessibility is essential, and a website or business may be punished if there is content, information, or services provided on the site that is not accessible in the physical location.
The four main principles to a compliant website are perceivable, operable, understandable, and robust. Our team of web developers will work diligently with you to make sure that you remain compliant and avoid any lawsuits or other legal trouble.
We go to great lengths to provide quality service and care, setting us apart from many competitors in the field.
Web Design Ventura County