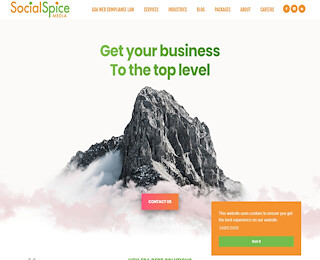 Social Spice Media offers more than just coding for our website development clients - we build real-world websites that involves much more than just writing some code. Social Spice Media utilizes a step-by-step process that involves designing, coding, testing, content creation, and so much more!
If you have used a CMS, such as Wix or WordPress to build your website, we can also enhance the functionality of your website with additional code. Just contact Social Spice Media for a free project consultation and tell us what you want. We'll work with you to enhance your ideas and bring them to life.
What to Expect When I Hire a Website Developer in Camarillo
When we develop websites for our clients in Camarillo, Social Spice Media creates fully functional, optimized websites. We can use your own images, fonts, icons, logos, videos, content, etc., or we can have them created or you, as Social Spice Media has a team of expert graphic designers on staff. Further, you can trust that you will end up with responsive web design when you work with Social Spice Media, meaning that your website will look beautiful on all screen sizes! This is crucial in the online world today as many users are going to be accessing your site with mobile devices!
One of the key benefits in hiring Social Spice Media for website development in Camarillo is that we can use JQuery for super-cool effects on your website, such as animations, scroll effects, and sticky navigation. We'll also take the time to optimize your website for loading speed and search engine optimization so that we turn over a website to you that is ready to launch.
How Social Spice Media Develops Websites for Our Clients

Social Spice Media offers front-end website development using HTML and CSS, and we use the best text editor in the world today to write our code - Brackets. You can rest assured that Social Spice Media will mind even the smallest details so that your website comes out flawless. The smaller details that we pay attention to include, but are not limited to, the following:
Typography
Colors
Images
Icons
Spacing
Layout
UE
W3C
ADA Compliant Website Developer in Camarillo
Nowadays, making your website accessible to everyone isn't merely a luxury or an added advantage that you provide for your users - accessibility on websites is a must! If your website is not ADA compliant, you may find yourself on the end of this new wave of lawsuits sweeping across North America.
ADA compliant website development includes the use of text behind images, audio transcripts of your content, easy navigation, and disability-friendly contrast and design, among many other design aspects. Social Spice Media is proud to offer this service to our clients. Contact us today, and don't forget to ask about ADA compliance.
Contact Us
Start the conversation today if you're looking for a website developer in Camarillo. We'd be glad to provide you with a free
consultation regarding your website development project.
Website Developer Camarillo