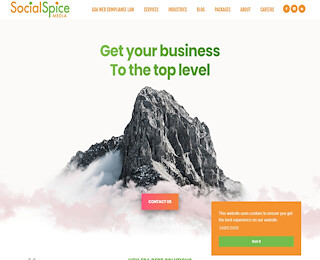 Finding the right web development company is imperative. Luckily, there is one name in particular that stands as a cut above the rest.
What services does Social Spice Media offer?
Social Spice Media specializes in several areas. Though web development is our specialty, we also offer services such as web hosting, business blogging, SEO/SEM, analytics, email marketing, graphic design, advertising, and video production.
We also specialize in social media marketing. Social media is one of the most famous avenues to reach new customers these days because of the accessibility it provides to customers as well as the sheer volume of users participating on platforms like Facebook, Instagram, and Twitter. Reaching that many eyes will help your business grow steadily, introducing new customers via those platforms.
Web Development is our forte.
We know that in business today, an eye-catching, up-to-date website is a crucial element to building your company's credibility and creating success online. It is a direct reflection of your business, and first impressions can be everything.
More importantly, we work on mobile development. The numbers prove that more people view content through smartphones than anything else: 77% of Americans own a smartphone, 53% own a tablet, 60% of cell phone owners access the internet, and 73% own a desktop or laptop (though this number is on the decline with smartphone usage rates climbing).
What can Social Spice Media do for my business?
We will develop a website that stands out among the sea of competitors. We will make your site informative, eye-catching, and easy to navigate while matching that presence on a mobile platform so that as customers migrate towards mobile viewing, you will not lose your presence to improper web development.
Social Spice Media will work with you to address any of your web-based needs. In addition to web development and social media marketing, business blogging (featuring SEO/SEM) is a critical way to reach customers and visitors through search engine queries. Google is a billion-dollar company because everyone uses it to find what they need. We make it so that your company is easier to find on a platform that big, bringing more eyeballs to your product.
Social Spice Media offers a comprehensive package to suit all of your needs.
If you are starting and need assistance establishing a presence for your business online, we have a Business Builder package that is designed to help with brand awareness goals. We will take awareness of your brand to the next level through several methods:
Social media marketing: We aim our focus on Facebook, LinkedIn, and Instagram to grow your presence and interact with customers in real-time.
Business Blogging: With as little as two blogs each month, you can keep your readers informed on your products and enhance your business' visibility on search engines like Google.
Email Marketing: You can deliver messages to the inboxes of your target audience twice a month to build relationships with potential customers, spread the word about your company, and offer exclusive deals.
Promotional Videos. With two promotional videos per month, you can impress your audience by standing out.
Social Spice Media is a one-stop-shop for all of your business' digital needs, and our staff works diligently with you every step of the way.
Websites Camarillo